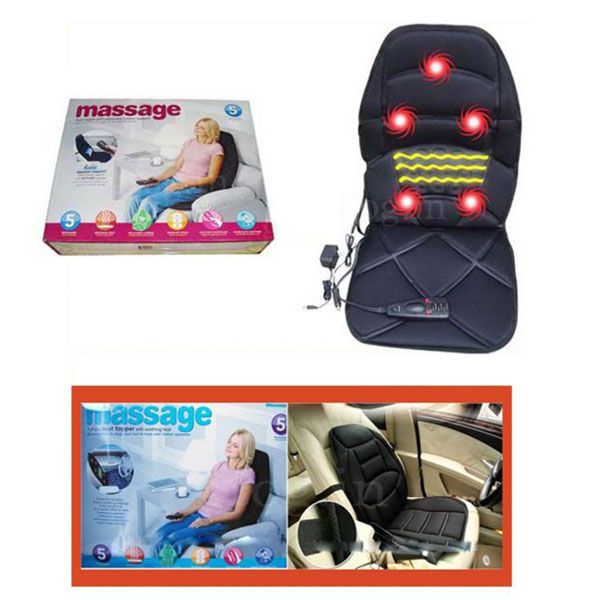 PRODUCT DESCRIPTION-:
5 MOTOR MASSAGE SEAT CUSHION CAR / HOME MASSAGER Use In Car,Home,Office
The Massage Full size seat-topper is

ideal

for use in

the car, at home, or in the office. The vertical and circular motion of the massaging back will relieve tension, pain and stress for the back, neck, and shoulders. For people suffering from nagging

back pain

and discomfort, the massage cushion is a practical solution. When placed on your car seat, simply plug in the socket and adjust the speed and intensity of the massage with the wired controller. For long driving trips, it is a must!

You can also use it at home while reading, watching TV or relaxing for a soothing back massage. A great feeling massaging seat that has infrared heat and vibrating massage - everything you need to relax and de-stress at home or on the road! Use the convenient remote control to choose from intensity levels of vibration, target body zones, and add or remove the infrared heat option. A great gift for commuters and those who sit for long hours at work!
Features/Specification:
Features:
Soothing infrared heat uses long light waves to send penetrating heat deep into muscles.
Home/Auto Adaptors included for enjoying a massage at home, office or car.
Motors direct massage and intensity to independently controllable zones.
Ergonomic hand-held controller
5 MOTOR MASSAGE SEAT CUSHION CAR / HOME MASSAGER
For use in Car, Office, Home, etc.
Promote Blood Circulation
Massages Back, Waist, backbone, Thighs etc.
Can Relieve Fatigue, Muscle tension, pressure and gives you Vigor quickly
Microcomputer controls
Trapping, Vibration and Magnetic
Powerful 5 motor massager
Provides great massage action to your back, shoulders and thighs
With the integrated, ergonomic remote control, the power is in your hands Simply slide the buttons to choose from.
Comes with an AC adaptor for use in the home or office